For some of us, today's fast-paced, technology focussed lifestyle has meant that our greatest outdoor adventure comes from walking to and from our cars.
Exercising outdoors has many advantages for South Africans. Training in our predominantly long tropical summers increase our vitamin D exposure benefits-vitamin-d and there is also the constantly changing scenery that gives your mind just as good a workout as the rest of your body with the incredibly liberating feeling of breathing clean, fresh air. There is also no need for membership or long contractual agreements, no prescribed gym timetable and no adhering to certain dress codes.
For the majority of residential estates and gated communities in South Africa, an outdoor lifestyle has always been fundamental to their offering and there are various options already available for homeowners and visitors like the nature trails maintained and managed by Pezula Golf Estate Homeowners' Association for example which allow enjoyment of the Sparrebos Nature Reserve and 45-hectare Afromontane forest located at the south-eastern corner of the estate
Alternatively, Fancourt Estate in George on the Garden Route is just one of many estates now offering cycling routes, which are suitable for different fitness levels and the entire family whilst the fully equipped onsite equestrian centre at Pearl Valley Golf and Country Estate in the Western Cape provide homeowners and visitors with horse riding facilities, which can burn up to 650 calories in just one hour. And for adrenaline junkies, the magnificent Valley of the Pools, housed in Zimbali Coastal Resort on the north coast of Kwa-Zulu Natal, are ideal for canoeing kayaking and swimming – the perfect post-workout muscle relaxant and all-body toner.
Estate communities are ideal locations for outdoor gyms and newer estates and those still in developmental stages are realising the importance of these like Woodland Hills Wildlife Estate in Bloemfontein for example, which is pushing the boundaries of outdoor training even more with the inclusion of outdoor gyms since 2012.
An entirely unique way of keeping fit, outdoor gyms – or adult playgrounds – have been growing in popularity in recent years and have swiftly made their mark across South Africa, with more than 200 located in parks and public spaces across South Africa, with the aim of getting to 2000. "As the majority of outdoor gyms already in South Africa have been positioned in public areas, they help create social gatherings and community cohesion," says Sarit Qwabe of World Outdoor Fitness, SA. "The benefit of an outdoor gym in an estate community is that it helps bring the estate community together and interacting in a way not seen before."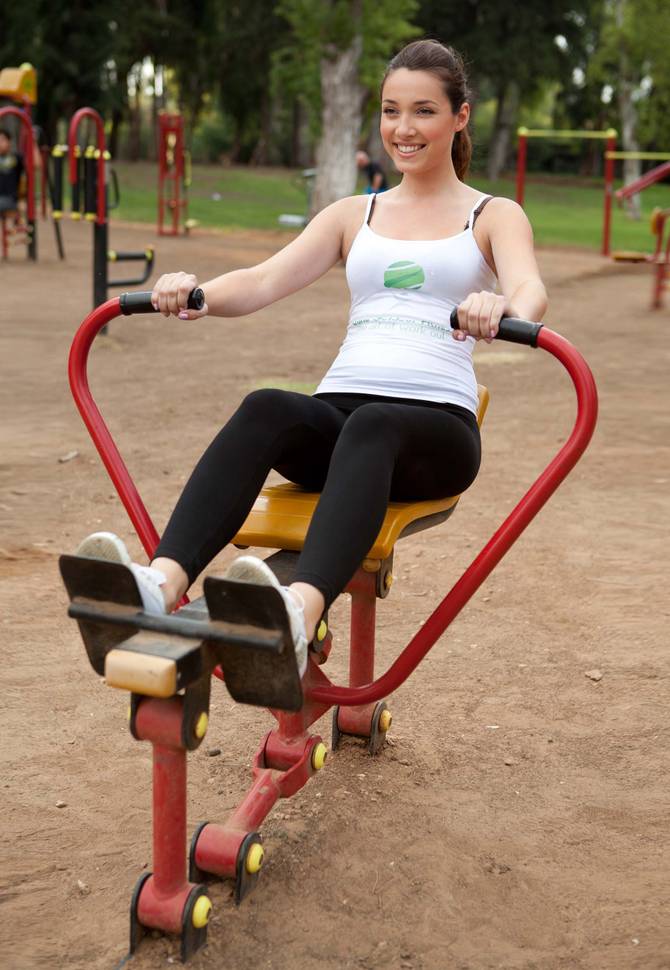 According to World Outdoor Fitness, SA, more than half of those already using outdoor gyms had never exercised before. "Cost and accessibility are the two main barriers for people wanting to exercise. The idea of an outdoor gym is to place it in people's way so to create regular uses. That is why they are often installed next to kids' playgrounds or in parks and other open spaces that people cut across on the way to the clubhouse or lifestyle centres, for example".

As one of the earliest companies to specialise in providing the equipment in South Africa, World Outdoor Fitness SA drew inspiration from the UK Government, which was achieving great success from doing something very similar and installed the first outdoor gym in the country at OR Tambo Narrative Centre in Ekurhuleni. Since launching in 2011 they have gone on to fit 275 units of outdoor gym equipment in 11 districts in KwaZulu-Natal for The Department of Sports and Recreation.
"The outdoor gym complements the indoor gym by allowing users who are not 'gym bunnies' to get used to working out without facing the sometimes intimidating environment of the indoor gym and without needing to leave the safety of the estate" says Qwabe. Furthermore, the ongoing maintenance of an indoor gym can run up to thousands of rand per month. The outdoor gym is a great alternative and allows estates to provide residents with exercise facilities that have zero to minimal cost.
Free, open at all hours, environmentally friendly and convenient, outdoor training creates a pleasant, healthy and optimal environment that can easily become part of the daily routine for the whole family. No matter what outdoor pursuit takes your fancy this summer, residential estates across the country are guaranteed to have it, or have it soon enough.